'Autumn Gold' masters track documentary is boffo in Toronto
Jan Tenhavenā€™s movie about masters track ā€" following five older folks to Lahti worlds ā€" isnā€™t just a hit at the Toronto ā€œHot Docsā€ documentary film festival. Itā€™s certifiably No. 1 with ā€œHot Docā€ audiences. ā€œAutumn Goldā€ led a popularity poll list of 20 films as of Wednesday night. And nice reviews are trickling in. ā€œA number of us were at Tuesday nightā€™s World Premier of Autumn Gold,ā€ wrote Ontario Masters Track President Doug Smith. ā€œThe director, Jan, was present for a Q&A. Canadian multi-gold medalist Olga Kotelkoā€™s WR discus throw is part of one segment. . . . Jan did a great job of capturing the personalities and motivations of these athletes. . . . I highly recommend it ā€" two thumbs up! Ebert & Smith.ā€ Hereā€™s the new German trailer:
Jan is a Berliner, and the Koopsā€™ German masters site headlined its entry: ā€œToronto: Standing Ovation for ā€˜Autumn Gold.ā€™ ā€
The Koops wrote (and I apologize for the bad translation):
January Tenhaven, director of the documentary film ā€œAutumn Goldā€ A shiver ran down his back. After a half hour movie premiere of his festival contribution there was for him and his movie ā€œstanding ovation and prolonged applause. The cinema hall was 500 (!) Persons completely sold out, including many senior athletes who had enthusiastically received the film.
The film festival in Toronto is one of the most important documentary festivals in the world and is therefore a good starting basis for director Jan Tenhaven and film distribution ā€œNew Visionsā€. The current photo of Toronto shows the long queue outside the entrance to the film ā€œAutumn Goldā€. The film will be shown today for the second time in Canada. (06/05/2010)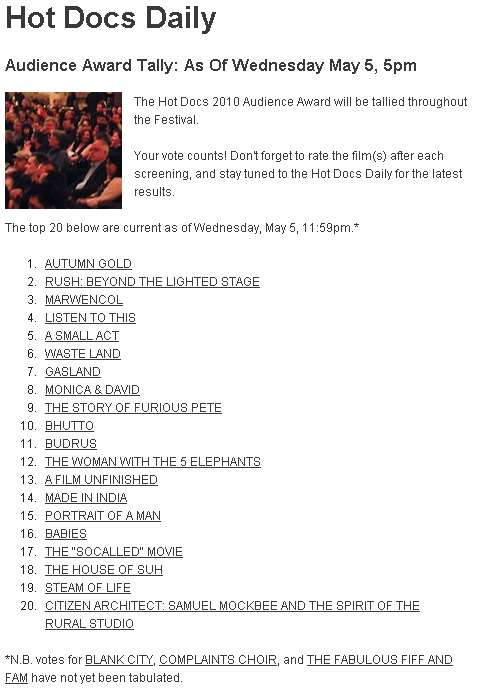 A ā€œhot pickā€ preview of ā€œHerbstgoldā€ said: ā€œHold on to your hip replacements and brace your funny bones! Aged 80 and up, a group of top senior track and field athletes train for the World Masters Championships, battling injury and upset in their quests for personal bests.ā€

Finally, hereā€™s a review of the film by someone who got an early peek:
Toronto ā€" ā€œFor those of you in the audience whoā€™s not in the special club and want to know what itā€™s like to have children, adopt an 100 yr old man, who needs 24 hr nursing care. And then find out, gee, my lifeā€™s really changed.ā€ So said Dana Carvey on his HBO special. Well. What if you have 100 yr old men and women who do not require oxygen cylinders or pampering? What if their lives have barely changed such that they still live as if they are 60 odd years younger? What would Dana Carvey say in that case? ā€œMmm. Well thatā€™s definitely a pleasurable sensation!ā€

Ok. If anyone has seen that show I apologize ā€" those two lines were taken completely out of context. But just as out of context is the name of this documentary: it should really be called Winter Gold. This is the story of 5 athletes as they journey to Lahti, Finland, for the 2009 World Masters Athletics Championships in track and field. If the average age in most developed countries is 75 to 80, then thereā€™s nothing ā€œautumnā€ about these athletesā€™ age. Jiri Soukup, Gabre Gabric, Herbert Liedtke, Alfred Proksch, and Ilse Pleuger, are all over 80, and some over 90 years old.

The Masters (not golfā€¦ although that comparison can be fittingā€¦) is an age-group competition ā€" where one competes within their own group and his/her performance is then normalized with an ā€œage factorā€ so that itā€™s comparable to othersā€™. Often times you might watch a documentary and think: ā€œOh, thereā€™s nothing special about these people, I can _____ (insert activities like backyard wrestle, run carnivals, skydive, highrise wirewalk), too, if I wanted toā€. Not here.

The film makers simply followed these men and women on their training and daily life so that the experiences can be ā€œpreā€ lived by us, who will probably not have the chance. Ever. The energy of these geriatric was simply astounding. In the opening, Jiri (82), climbed 5 stories in 1 minutes and was still composed enough to dole out some wisdom on life. Gabre (94) led a group of 60 yr olds on aerobics exercise and then trained on her bike. Herbert ran the 100m sprint, Alfred still sketched nudes at 100, and Ilse danced around the living room with a broom looking/moving like sheā€™s 45 and not 95.

It is a nice touch that Tenhaven did not make this feel like a freak show of immortals, which it easily could have been if he had focused on or even mis-emphasized these peopleā€™s idiosyncrasies (aka the style of some Japanese TV documentariesā€¦): did they have special diets, environment control, meditation? Is there a ritual they go through daily? The answer, surprisingly, is no. These people led normal lifestyles.

If anything, the secret to longevity is there is no such secret and you should stop worrying about one. Rather, we are reminded of what happens when you live long enough ā€" everyone and everything else dies, trees included. There were definitely moments of intense longing.

Perhaps thatā€™s a part of the reason they enter these competitions ā€" the need to be with peers and not feel alone. And then thereā€™s the competitiveness that still drives these people. Itā€™s not a small competition, either ā€" I think thereā€™s maybe 5000 or so competitors each year. Thatā€™s bigger than some scientific conferences.

I have mixed feelings about the slow-motion shots in this film. On one hand it allows you to see the focus and concentration on their faces, but it was also slightly melodramatic and clashed a bit with the rest of the film, when it cuts from a demure narrative to something out of the Kraken battle in the Clash of Titans. I rather enjoyed that dimmed optimism ā€" knowing that finality is imminent and yet quietly go on living oneā€™s life ā€" without high drama.

Youā€™ll have to watch to get the individual results of the competition ā€" Iā€™ll just close by saying that it was very cool to hear O Canada mixed-in with the credits. Watch for hilarity when The Italian shows up!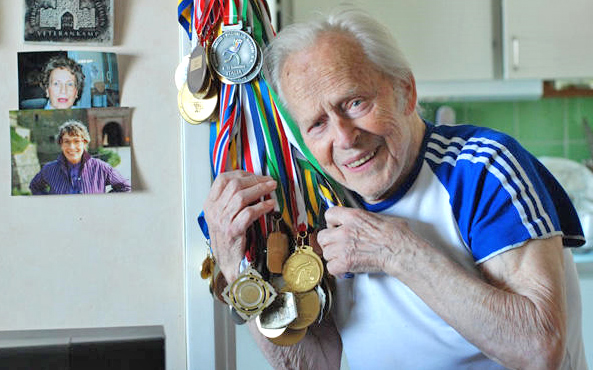 May 7, 2010