Master Masters Athlete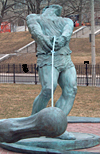 Joined: Sun Aug 19, 2007 10:07 am
Posts: 40
Location: Youngstown, Ohio
Will the college be opening up dormitories to competitors like they have in the past with a meal option in the cafeteria? If they are when do you think they'll release that kind of information?

Thanks in advance for any help!!!

_________________
The Hammer
"Throw like you are in first. Train like you are in second."