Master Masters Athlete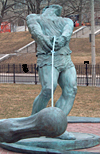 Joined: Sun Aug 19, 2007 10:07 am
Posts: 40
Location: Youngstown, Ohio
I'm planning on traveling to Sacramento for the 2010 National Championships later this year from Ohio and the last time I was in California was about --- ummmmm --- 15 years ago. I noticed the dormitory housing has been posted for Sacramento State and that the room for my wife and I will be $100.

I was wondering if that is considered cheap for a room in Sacramento or if I'd be better off looking for a hotel nearby?

Even if I could find it cheaper, or if it was the same price, somewhere else would I be better off staying on campus for convenience sake since I'd be traveling to the track every day? (I don't know how travelling through Sacramento everyday is with traffic and such.)

I'm not familiar with Sacramento so I was hoping someone from the area or someone who has travelled there frequently could help me out.

Also, one other question. As far as throwers not throwing inside the actual track the rest of the meet will be held at, do they have throwing facilities outside the track, will it be held nearby at the warm-up track, or at another facility we'd have to travel to in order to compete? I'm only asking this because it might change my decision on where to stay if the facility is not located near the original site.

Thanks in advance for the help.

_________________
The Hammer
"Throw like you are in first. Train like you are in second."