Master Masters Athlete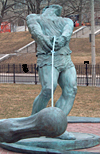 Joined: Sun Aug 19, 2007 10:07 am
Posts: 40
Location: Youngstown, Ohio
So is it really possible for nationals not to held at Sac. St.?
If for some reason they cannot hold it because of whatever reason, would they just move it to a nearby facility or could it move to a new location like last year?
Also when would that decision have to be made by in order to allow participants a chance to rearrange plans?
Or is this scenario out of the question and this is just a rumor that has no meat to it?

_________________
The Hammer
"Throw like you are in first. Train like you are in second."