Olympic champ and former world record holder Sebastian Newbold Coe ran a road mile in 6 minutes flat Sunday at age 60. Not bad. But the real shocker was — again — Anthony Whiteman. Fresh off his series of M45 WRs in the 800, he put on his roadie shoes and clocked 4:08 in his section (but 4:07.4 by one report). Elite results show Tony was only 4 seconds behind race-winner Nick Goolab, 27. Within hours of finishing the Westminster Mile in front of Buckingham Palace, Tony was tweeting and Facebooking a question: Is there an official Road Mile M45 World Best time? Well, no. (Otherwise, downhill races would host all the WRs.) But the best response was by Neill W. Clark: "Given your times, Anthony, I think the record is whatever the hell you feel like running for a mile on an open road." The listed M45 track record is Tony Young's 4:16.09 from 2008. (John Trautmann has an indoor time of 4:12.33, and Young has an oversized indoor track time of 4:13.25). It's only a matter of time before Whiteman goes sub-4:10 on the track.
Thanks to @AthleticsWeekly my official time was 4.07.4 for 8th place!@WestminsterMile chuffed with that!đź'Ş

— anthony whiteman (@Whitemansub4_40) May 28, 2017
Pretty sure I cracked the top 10 in the Elite @WestminsterMile 4.08 shows more progress this year. No official records 4 masters road miles.

— anthony whiteman (@Whitemansub4_40) May 28, 2017

Lenore Lambert
of New South Wales (in Auzzieland) ran a W45 national record in the 400 hurdles, clocking 63.85 at her masters nationals. Saturday in Cairns, Queensland, she's shooting for the listed WR of 62.85 by Germany's
Barbara Gähling
in 2010. So says
this article
in the Cairns Post. Lenore will compete at
Barlow Park
in the
Great Barrier Reef Masters Games.
"It is kind of the only box left to tick, this world record," Lambert told the paper. "There is only one thing left to do — can I do it? I do not want to die having not tried it." Attagirl! Her best 400 flat this year is 59.73, so she has the speed endurance. Kissy points to the first person to post her mark.

Two months ago,
Sierra Gold
masters meet northeast of Sacramento dished out $2,500 to four record-setters,
as the local paper reported.
They included M65
Doug Torbert
in the shot (getting credit for a WR even though he has a better mark earlier this year). He took home a grand. American record setters collecting $500 each were W65
Kathy Martin
in the mile (just missing the WR), W65
Myrle Mensey
in the hammer and W60
Carol Finsrud
in the discus. "It was pretty exciting to win the $1,000," Doug writes. "Their criteria for the award was to celebrate the achievement of any athlete who broke the existing (listed) world or American record. It definitely made it special to be able to share the moment with other athletes and those in attendance." He says he got the check almost immediately, but "I haven't really thought about how I'll spend it — I think I'll save it so I go can go back to next year's meet. Evening sky, surrounded by tall pines — it definitely was a beautiful setting for a track meet."

Organizers of last Saturday's
Tracy Sundlun
was laid off by San Diego-based Competitor Group Inc. last July — days before leaving for Rio and his gig as U.S. men's track team manager.
I wrote about his firing.
Now he shares a scarier story — that his old employer, CGI, which he built into an international powerhouse, has denied him severance pay and won't reimburse all his business expenses. They won't even return all his personal office items. Why? Tracy says CGI blames my November 2016
Times of San Diego story
as containing "disparaging" remarks in violation of his separation agreement. Tracy tells me that ain't so. (So I'm not feeling guilty.) But Tracy is taking on his old company by sharing a bunch of documents on his case.
See my latest story.
So that explains why I've been quiet past couple days. (I have a lot of info on records set and payments made at Sierra Gold meet. Stay tuned.)

M60 marathon business legend
Anthony Whiteman
scorched two laps in 1:53.40 and shattered
Sal Allah's
2005 mark of 1:54.18. Then came: Who could go sub-1:53? Whiteman replied
with a 1:51.3
— breaking the 1:52 barrier as well. Now what do we make of Anthony's outing Sunday at the
Loughborough International?
Competing in a heat won in 1:48.68, AW lowered his season best to a head-smacking 1:50.52 — only 2 seconds off the listed M40 WR of 1:48.22 (by Anthony, of course). If Anthony had run 1:50.52 early in the 20th century, he would have been the
world record holder
going into the 1932 Los Angeles Olympics. (Fellow Brit
Tommy Hampson
was the first to go sub-1:50 when he won gold at L.A. in 1:49.8.) Another way to look at 1:50.52 — he would have made the semifinals of the M45 400 at Perth worlds with just one of his back-to-back 55.26s. Unbelievable. Now let's see him run some other distances. The listed WRs are 49.69 (but 49.12 awaiting ratification), 3:51.22 (1500) and 4:16.09 (mile). See Tony (in yellow top) battle the kiddies:

Who would be the first M45 to run sub-1:54 in the outdoor 800? That was answered several weeks ago, when British Olympian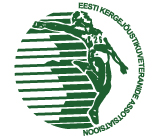 A week after the Eurovets hold their WMA regional in Aarhus, Denmark, the Estonians (no relation) plan an open masters meet in Pärnu. The event is August 12-13, and info is here. "This will be a good possibility to improve the results in less formal atmosphere – have good food and beer after competition, walk in warm summer nights on sandy Pärnu beach, have a disco dancing in the Saturday evening and meet friends and competitors once again," the Eurovets say of the Baltic Open Championships. "Pärnu is a nice resort city 125 km from Tallinn and about 200 km from Riga. All information about competition you will find in our web-page kjveteranid.ee." LOC is Estonian Masters Athletics, or EstMA. (In Estonian, it's Eesti.) Spelled out, it's esti Kergejõustikuveteranide Assotsiatsioon. Maybe some Yanks can infiltrate the meet and report back.

A month ago, I noted how the German track federation was rejecting any records set at the Auckland World Masters Games because — horrors! — satanic dope-fiend Russian masters were allowed to compete. I summoned the Soup Nazi from "Seinfeld" to illustrate the inanity of that stand. So who do I recruit for comment on the news that the French are shunning results from the WMG and the European Masters Games? Yes, the contagion has spread. According to Alfred Hermes' German masters site: "The French national commission for seniors' athletics (CNAM) announces that Fédération Française d'Athlétisme (FFA)'s results obtained from European Masters Games and World Masters Games are not included in their publications and record lists. Both events are organized by a private organization, which is not recognized by IAAF, WMA, AEA or EMA. Therefore, there will be no advertising for these events on CNAM and FFA websites." OK, now you're getting it, you Jerry Lewis-loving snail-eaters! How about a leetle Robin Williams?

Last October, I wrote about Dan Bulkley of Oregon being entered at the Huntsman World Senior Games. At 99, he was set to run sprints and do discus and javelin. He didn't make it to the meet. But thank goodness he made it to 100 (on May 4). In one of the greatest masters profiles I've seen, his local paper shows him running 100 (to the movie theme of "Superman"). His exact time wasn't recorded. But his form was great. Tim Trower's story in the Mail Tribune had a lot of revelations, including a sad one: Dan may be hanging up his spikes. But "he plans to run [100] again this Saturday, when a birthday party of some 200 guests — family and friends are another thing Bulkley has collected over these many years — commences at RoxyAnn Winery." Also notable: "The [alternating lead leg] hurdle technique he adopted years earlier in college boded well. For 15 years and through three age groups, 70 to 84, he was unbeaten in the intermediates." (Using "intermediates" brands the writer as a track savvy guy.) Also loved hearing Dan's motto: "You don't slow down because you're getting old. You get old because you slow down." Dan's last official meet was a year ago in Bend, running the 50 and 100, the paper says. He's already a Masters Hall of Famer. Legend is his legacy.

Mark your calendars for 2019. That's when W85 world records will drop like pins on the PBA tour. That's when Irene Obera is coming back. The Masters Hall of Famer periodically emerges from her Bay Area habitat to rewrite the record books. After winning 2016 Top Female Athlete of the Year Honors, she's biding her time till she turns 85 in December 2018. The unlikely source of this news is the Moroccan-based track site Om Riyadat, which helpfully runs in English as well as Arabic. "Upon returning home [from Daegu worlds], Obera — as she has throughout her long association with track and field — opted to step away from the sport … at least for a while," says the profile, quoting her: "I decided to take a break, but that doesn't mean that I'm sitting around doing nothing." She underwent cataract surgery on both eyes April 20, and she says: "I'm glad I did it; there was nothing to it."

posted a story
about China's
Chen Xuhua
of Jinan, Shandong province. "At the Perth 2016 World Masters Athletics Championships… Chen won the 5,000m and 2,000m steeplechase for women in the 75-79 age group," it notes. (Her times: 25:56.79 for 5K and 11:30.55 for 2K steeple.) She also was fifth in the 400 (1:35.51) and second in the 10K (56:06.57). The retired kindergarten teacher who taught singing and dancing has a goal I've never seen uttered before: "My three sons also like sports, partly because of our influence. I will continue running. And try to realise another dream – applying to Guinness World Records for the most gold medals won by an amateur runner." That'll be hard to prove. But it's great fodder for chatter. How many golds have y'all won? (She says she has 119.)

The Malaysian-based Star2 website